I realised that I do a number of different photography session for my clients, but not all of them are described here on my website. So I am starting this new feature on my blog. I will be describing each session over the next few week, telling you how they work and what you can expect while working with me. First featured session Family Photography.
I have been documenting my own family and my life for a very long time, well forever actually. I love looking back and events and every day life that I have captured for me and my children. In a lot of those photos from years past, there is one thing missing… and that was me! I am aways behind the doing the documenting. I actually love being in front of the camera, not many photographers do, but I love it, and it makes me sad that I have missed out on so many occasions when my kids were little and I'm not in those photos with them. I do have some, don't get me wrong but I would love to have many more.
This is one of the main reasons why I am so passionate about documenting families and bringing the whole family together. I know we all work hard and we don't think we are slim enough, or tanned enough, or looking beautiful enough to be in front of the camera. But guess what, your children, in 10 – 15 years time won't care… and neither will you. They and you will treasure seeing your family in the photographs. Remembering being together, playing in the park, and seeing their parents present in their lives.
In this day and age of selfies and iPhone photos, very rarely we print these photos. They live in our iPhones and on our social media for 5 minutes before another status updated pushes them down your Facebook feed. And we never print them and hang them on the walls to evoke feelings of love, belonging and being together. I strongly believer that photographs should be seen and appreciated and loved, and the only way to do that is to hang them on your walls. Investing in family photography with a professional photographer will give you the beautiful image you will love hanging on your walls.
Family Photography with Angie Duncan Photography.



I love capturing real love and connection in my photos, and I believe that to do that you need to be comformable and that isn't something that everyone can do when meeting some one for the first time.
This is especially true for children. They are shy, after all we do teach them about stranger danger and not to trust strangers that they just meet, even if these strangers are talking with their parents. So I want you and your family to get to know me, so that on the day of your photo shoot, I'm not a stranger but more of a friend.
All my photography sessions come with a initial meeting, usually at your house on a day where you and your whole family are there. We chat over a coffee about the day, how it is going to work, where we are going to go and what you can expect from the shoot. I answer all the questions you might have about what to wear, what if the weather turns bad and how it all unfolds. At the end of our meeting, you will have a better understanding of how I work and what you and your family can expect on the day.
I love having a chat with the kids too, especially little ones. They feel more conformable on the day because they already have seen me and know me. Dads are usually more relaxed because they know, that I'm not going to make them pose for hours, and that they will actually have fun with their kids on the day. We plan the session together and make it personal for your whole family.
On the day when we meet at the location that we decide on,  you will be relaxed and excited to spend some time with your family. Knowing that at the end of the day, you will have beautiful images of your family to treasure. You will find my style of photography very natural, warm and real. I capture the laughter and hugs and kisses as they happen. My ultimate goal is to capture the real love and connection you have with your family.
My photography sessions are usually between 60 to 90 minutes, but not limited to this amount of time. Best time for photographs is either early morning or late afternoon, where we can take advantage of the beautiful warm light. But this also depends on location, as some locations are perfect for photography all day long.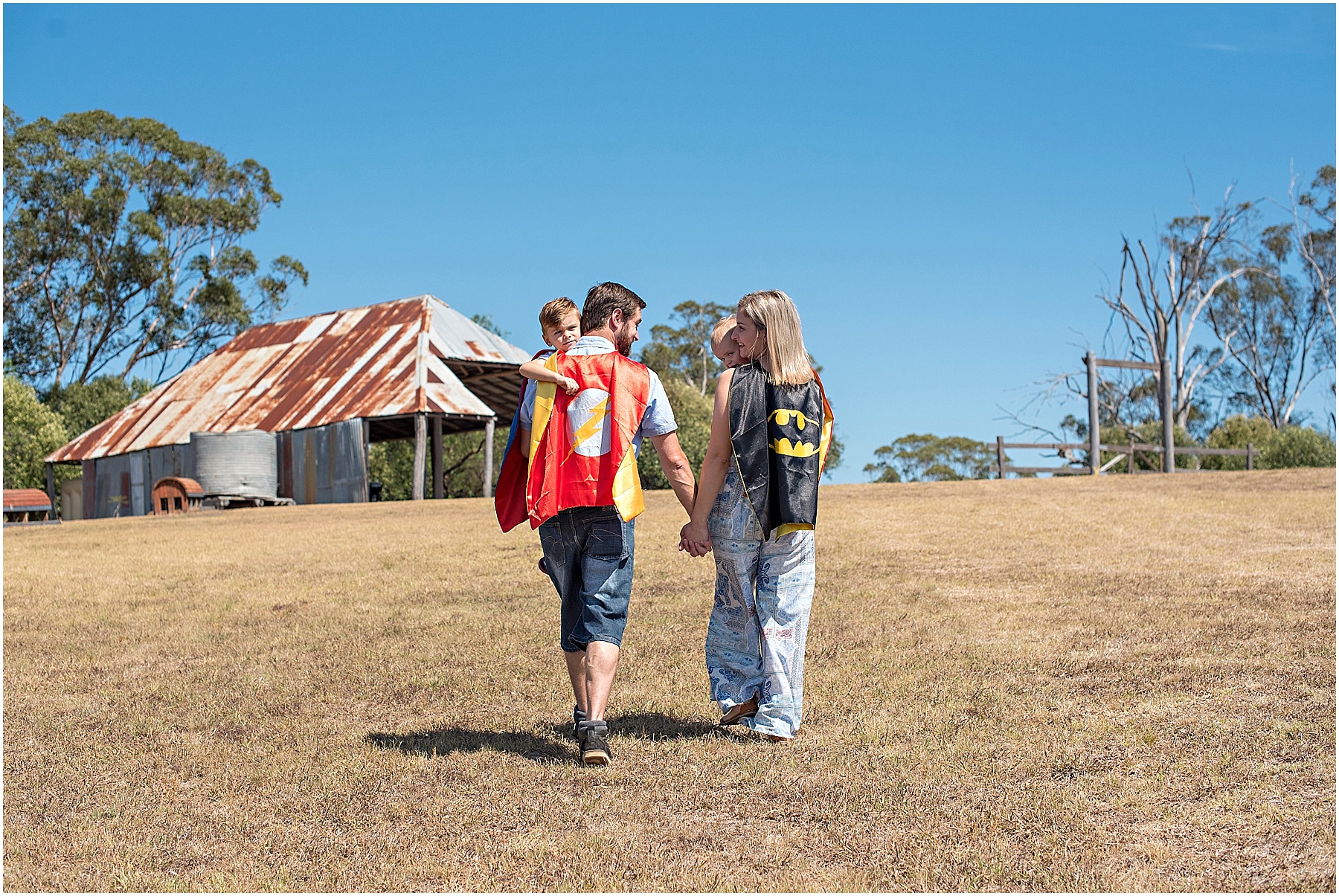 We walk around, and I photograph different combinations of your family circle. Mum with kids, Dad with kids, everyone together, kids together and much more. We play games, we talk, we laugh, we run around. I show you sneak peeks along the way, so that you can see the what I'm get in my camera. As our session comes to an end, I hope that you are even more relaxed and feel happy having spent this time with your loved ones.
Your images are ready for viewing within 7 – 10 days. I will give you a call and set up a time where everyone will be home to view the images. I come back to your house and show you the beautiful photographs I captured on the day. You make your selection as per the package you picked, there is no hard selling or pushing you to buy a certain amount. You simply pick your favourites and we go from there.
All my packages include 5×7 prints of all the images you select as well as digital high resolution files. When you receive your prints I want you to be able to see them straight away. I want you to be able to show them to your family and friends without having to sit in front of a computer or a laptop. I want you to be able to display them straight away, around your home and enjoy looking at them without having to find a printing lab to print them out first.
All my 5×7 prints are printed in a professional printing lab that my computer is calibrated to. So when I receive them I know that, they look exactly as I meant for them to look. Your prints delivery usually within 7 days from your selection and payment. They are also hand delivered to you, personally by me. Digital image are available for download at the time I deliver the prints. You can save them straight to your computer and never work about where you put that USB, and know that I always keep back ups of all your images and which ones you ordered.

If you would like to book your family photography with me, please send me an email. I will send you all the details.
I would love to meet you and your family.